9
Best Plants For Betta Fish Tanks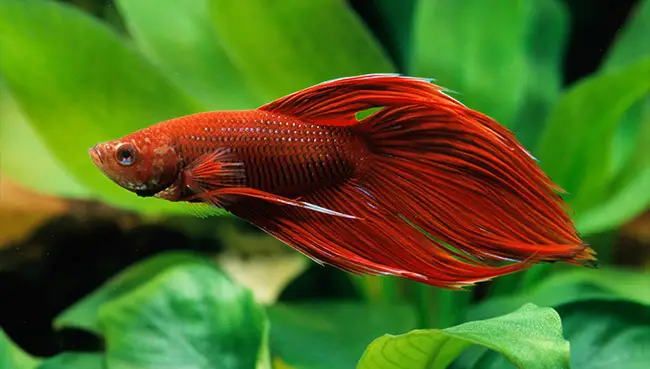 Adding the Best Plants For Betta Fish Tanks will surely give your aquarium a very wild and natural appearance; give your betta a good place to rest after swimming.
An aquarium is a really cool thing to have and betta fish even more so, but you can't have just put only fish in there.
Your betta fish tank needs the best plants to liven it up, make it look pretty, and give your betta fish some entertainment too.
live plants are good for your betta tank because they just look really nice and they definitely add to the serenity of your fish tank.
The Betta plants makes great places for your betta to relax.
Identifying the Best Plants For Betta Fish Tanks that will give the appropriate solutions and remarkably handle the affairs of the water in the tank is very important for you.
knowing how to choose the Best Plants For Betta Fish Tanks, will not be hard anymore after going through this article. You will be able to make the right choice for your aquarium tanks with ease.
Top 10 Best Live plant For Betta Fish Tank in 2020 (Reviewed)
1) Red Flame Sword – Beginner Tropical Live Aquarium Plant
This plant Requires little attention while providing tons of color and texture to the home aquarium, the Red Flame is a great sword plant for your betta fish tank.
The Red Flame is a relatively easy plant to maintain, but grows rather large in the aquarium. Use this plant as a background in the smaller aquarium, and as a mid-ground focal point in the larger aquarium.
It is Hardy and undemanding, its wide tall leaves add swaying movement and a lush backdrop to planted community tanks.
Echinodorus Red Flame is a hybrid between Echinodorus schlueteri 'Leopard' and Echinodorus barthii.
Red Flame is very similar in appearance to The Ozelot Sword, but with larger swatches of red running along its leaves compared to the leopard-like spots of the Ozelot.
The Red Flame is sensitive to copper, so this type of medication should not be added to the aquarium where it is contained.
2) Luffy Moss Aquarium Plant
Luffy moss plant is Naturally fluffier and finer in texture in comparison to other moss carpets that are available out in the market, the lush green moss carpet by Luffy gives any aquascape a beautiful, refined finish.
Betta fish will naturally gravitate towards the softer, finer feel of this Marimo moss. You'll notice your betta or guppies start playing and rolling about on the Luffy Moss Carpet, to help calm and reduce their stress.
This beautiful moss carpet Transforms your aquascape into a captivating scene out of the legendary plains of Iceland with these emerald green, lush Luffy moss on a metal carpet mesh sheet.
This won't fade in water and gives a lifelike rustic look that you and your aquatic pet will surely love.
 Luffy Moss Carpet has a finer texture than other moss, This makes it soft and comforting for betta fish. They will enjoy swimming and gently brushing over the surface of your moss.
3) Penn-Plax Aquaponic Betta Fish Plant 
The Aquaponic Planter and Fish Habitat allows you to keep a betta or goldfish together with your favorite houseplant or herbs. The symbiotic relationship between the plant and fish allows both to thrive in this fun and educational environment.
The Plastic plant holder with ceramic substrate planting material and also creates a healthy habitat for betta fish by replicating nature's cycle.
The Plant above purifies water and absorbs fish waste as nourishment.
The Betta fish tank is easy to clean; planter is simple to remove when needed. Can be used as a planter alone for many water thirsty plants.
This plant is Recommended for betta, goldfish, bloodfin tetra, and white cloud minnow.
4) Mainam Nymphaea Rubra Bulb Dwarf Water Lily 
Nymphaea rubra is a beautiful and very varied species with reddish leaves. Before forming floating leaves this Nymphaea will form many underwater leaves.
When the plant grows older it sometimes sends a flower stem up to the water surface with an aromatic, elegant lily flower.
5) Micranthemum Monte Carlo Pearl Grass
These plants are grown in high technology lab in sterile process which is free from disease, algae, snails and other pests.
They adapt well in vary aquarium conditions meaning that unlike others, this plant is adapts better to its new growing environment.
How to work with this plants:
1. Remove plants from packaging.          2. Rinse and wash the gel under clean water.
3. Divide into small portion usually .       4. Plant directly onto your substrate.
You may use tweezers to make the process easier as they are small and delicate plants.
6) Marimo Moss Ball 
Marimo Moss Balls are without a doubt the easiest live aquarium plant; they require no special aquarium light, CO2 system, or aquarium plant fertilizer.
Marimo also remove nitrogen and phosphate from the aquarium, increasing water quality and removing algae by competing with algae for nutrients.
Marimo can be kept in nearly any freshwater aquarium that has a temperature of 78f or less. They are particularly useful in bettas, shrimp and snail tanks, as the shrimp and snails love grazing on them for biolfilm.
With their deep green color, spherical shape, and easy level of care, Marimo are the perfect live aquarium decoration.
Their unique appearance makes them a centerpiece aquarium ornament in any small aquarium, and a wonderful addition to aquarium driftwood, aquarium rocks, and other natural decor of a large aquarium.
Marimo are also widely popular for use in terarriums, jars, vases, and other containers. 
7) Water Spangles (Salvinia Minima) Plant
The water spangles live plant is a relatively easy plant to maintain in the aquarium. No substrate is needed for this plant
It provides shade for your betta and also, a good resting place to relieve stress for your betta
You are advised to avoid Strong water movement in aquarium for this plant
8) Water Lettuce – Floating Live Pond Plants
Water lettuce provides a floating rosette of attractive foliage that resembles lettuce. The plants float in ponds and water features, forming dense clumps of leaves.
The leaves remain dry while the long roots dangle freely in the water. The plants shade the water and the floating roots leach nutrients from the pond, which helps prevent algae growth.
Water lettuce grows naturally as a tropical perennial. In colder climates, grow the plant as an annual or bring it indoors to overwinter. Your fish will love them.
Your betta will appreciate the shade, shelter, and food provided by this plant.
This plant controls algae and increases oxygen in the water. They grow extremely fast, specially with lots of sun exposure.
They are 100% chemical free and are fish and shrimp safe.
They serve as natural biofilters to your pond, helping clear the water naturally. Controls algae by absorbing nutrients from the water
Water Hyancinth are great biofilters. Their long roots provide a hiding place for smaller pond inhabitants.
They grow extremely fast, specially with lots of sun exposure. Your fish will love them.
They will appreciate the shade, shelter, and food provided. This plant controls algae and increases oxygen in the water. They are 100% chemical free and are fish and shrimp safe
10) Alternanthera Reineckii VAR. Roseafolia | Telanthera  Red Plant
Alternanthera reineckii var. 'roseafolia' is a very decorative "red" plant. Alternanthera reineckii has a bronze color on top of the leaf and the deep purple colored underside of the leaf.
Alternanthera reineckii offers a nice contrast to the mostly green plants in an aquarium. Although most red aquarium plants are somewhat difficult to grow in an aquarium, Alternanthera reineckii is relatively easy.
With adequate light and fertilizer Alternanthera reineckii grows vigorously and with good color and adding CO2 will make these plants bright red.
This plant Gives your aquarium a natural planted look. Great for planting in the midground to contrast with green plants
It will Make your fish tank look natural and beautiful and Provide natural resting and hiding places for your smaller fish and invertebrates.
FREQUENTLY ASKED QUESTIONS ABOUT THE BEST PLANTS FOR BETTA FISH TANKS
Do Bettas use leaf hammocks?
Betta
 fish like to snooze in their 
hammocks.
While a betta hammock might not resemble the hammocks that humans laze around in, it serves the same purpose.
A betta hammock provides your betta with a safe spot to rest and relax. It's no secret that bettas enjoy a good nap. And, bettas can sleep in some odd spots
Do Bettas sleep on leaves?
Bettas sometimes take short naps during the day. If you've ever noticed your pet lying on the bottom of his tank doing nothing in particular, he could be asleep. 
Bettas also take infrequent naps during the day. You may notice your fish resting at the base of a plant, or perhaps he's even resting amongst the leaves.
Do betta fish need beds?
Unlike humans, Betta fish do not have eye lids. They also do not drift away into a deep sleep but they do take time to rest when needed. A Betta fish will find a comfortable place where they will rest and become inactive for a period of time.
Are mirrors good for betta fish?
So, the point of this is: You can place a mirror by your bettas tank for short amounts of time (10-15minutes). In fact, it is a healthy exercise to do so. Just don't over do it, or you could stress out your betta, making it suseptable to diseases.
Do betta fish get lonely?
Do They Get Lonely? Betta fish are naturally territorial and should not be housed with any other betta fish because they will fight and injure each other, often resulting in death. They are unlikely to get lonely in their tank; however, if they are in a small tank, they may get bored
Do Bettas like toys?
Betta fish love to spend time at the surface of water. Zoo Med's real floating log, a piece of natural driftwood, maintains your tank's pH while giving your fish a place to hide and a toy to play with. The log is entirely natural, free from harmful chemicals. That way it won't upset your aquarium's mineral balance.
Do betta fish recognize their owners?
Betta are quite intelligent as fish go, and they can even be trained to recognize their owners and do tricks. They require stimulation and space to live well, and, as you might suspect, a tiny plastic cup doesn't provide that
Conclusion
Just like every other embellishment to your betta fish tank, preparation and research should be carried out before including any kind of living organism to your tank.
Your fish community and invert need to stay harmonious, healthy and happy.
Adding the Best Plants For Betta Fish Tanks will surely give your aquarium a very wild and natural appearance; give your betta a good place to rest after swimming.
All of the plants we have listed are fairly easy to maintain, resilient to various water parameters, and they each provide some kind of benefit to your betta fish as well as the aquarium in general, that are also what we feel are plants safe for betta fish.