Selecting the Best Pet Fish For a Classroom Aquarium is very important. At least there must be a fish aquarium in a science classroom.
A freshwater fish is more preferred for classroom aquariums because you can use the freshwater quickly there if it needs to be changed.
Pet fish are a nice classroom pet. They are easy to take care of and entertain students. Figuring out if you want a classroom fish can be a somewhat tricky task. And what fish do you even go with?
This article will help you decide the best pet fish for the classroom as well as other important information.
These fish must exhibit the qualities you want from a classroom pet. They must be entertaining and make sense in a classroom setting.
There are several things to consider before getting a pet fish for the classroom. Look at the best fish for the classroom. Balance the pros and cons of getting fish for the classroom. Make a checklist of things to do before setting up the fish tank. Read on so you can make a better decision about a classroom fish.
How to choose a fish for the classroom
When deciding on what fish you want for the classroom, there are some important things to consider. The most important things to consider are the size of the fish, the space for the tank, and the total expense. 
Size of the fish: While all fish are small, compared to other pets, some fish are larger than others and might require a bigger tank. For example, you probably want to avoid oscar fish because they are big fish and require a large tank. Same goes for a fish like a pleco fish. Betta fish are good for classrooms because they are small fish and come in a lot of cool colors and designs.
Space for the tank: Another thing to consider when choosing a pet fish for the classroom is the space. Classrooms can vary in terms of size. Your classroom might be larger or smaller than a traditional classroom. For elementary school kids, classrooms contain more things than a middle or high school classroom.
When choosing what pet fish you want for the classroom, you can get a headache. There are so many cool fish to choose from and deciding the best fish will be hard. From my experience, here are the fish that will accommodate well in the classroom.
Top 15 Best Freshwater Fish for Classroom 2020
Students learn more when they learn with the live pet available. They love and show more interest in their studies when they have a pet in their classroom.
Here are some of the best fish species for using in the classroom aquariums. 
1. Betta Splendens
A single male Betta is a great choice for a small tank. Give him some decorations to hide in and swim through, and make sure the current isn't too strong.
He will not need the filtration if you keep the water crystal clear, but if it isn't bothering him you may as well leave it on.
If you choose a male Betta for your tank he should be in there alone as there is a strong chance he could be aggressive in such confined quarters. Though, in a larger tank, he may get along fine with community fish. This is one of the Best Pet Fish For a Classroom Aquarium
A word of caution: If you plan on a Betta fish please take the time to learn how to care for him correctly. You can start here:
2. Fancy Guppy
Guppies are small, curious fish and will do well in a 5-gallon tank, provided the water is warm enough and the environment is kept clean.
They come in all kinds of different colors, so in combination with your aquascaping they can make your tank quite an eye-catcher. Stick to a conservative school or 6 or fewer with these little guys. Even though they get along, you don't want to overcrowd.
If possible, do some research (or ask the staff at your pet store) on how to tell male and female guppies apart. It is a good idea to stock two females for every one male in order to cut down on stress.
3. Dwarf Gourami
A dwarf gourami is a bad choice for anything less than five gallons, but if that's the tank size you've chosen it may be an option. Gouramis are anabantids, meaning they can breathe the air above the water.
Bettas are also in the anabantid family, which is why they can do well in water with lower oxygen levels. But that's no reason to let the tank get dirty. A dwarf gourami requires clean, warm water and should be kept alone in a 5-gallon tank.
Remember that dwarf gouramis are considered semi-aggressive fish. I will reiterate that it is not a good idea to have tankmates with a single gourami in a small tank. This is one of the Best Pet Fish For a Classroom Aquarium
Also, realize that there is a big difference between a dwarf gourami and other gourami species, so choose your fish carefully!
4. Ghost Shrimp
These little shrimp are often thought of as food for other fish, but they are interesting critters in their own right.
You can have a little group of half a dozen shrimp in a 5-gallon tank, provide a lot of interesting things for them to climb on and feed them algae wafers and sinking pellets. It would make for an intriguing if unconventional tank setup. This is one of the Best Pet Fish For a Classroom Aquarium
5. Oscar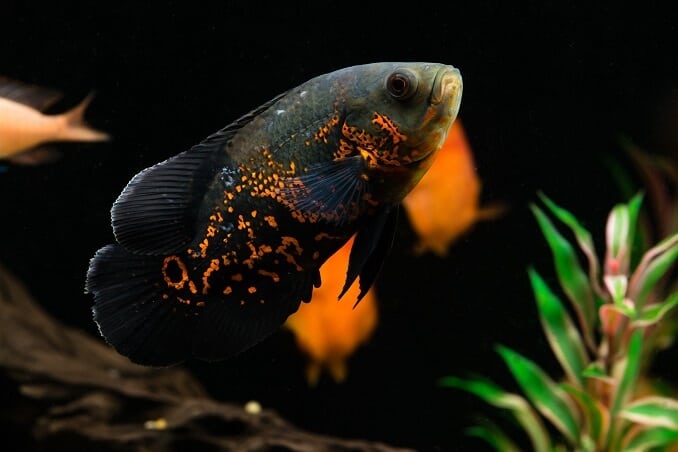 Oscars are thought to be one of the most intelligent aquarium fish available, and are one of the few species that can be trained to do tricks.
Oscars however are not a community fish, they should be kept in a species only tank, and they can grow very large, very quickly.
They require a lot more maintenance than other fish, due to their carnivorous nature and the amount of waste they create. This is one of the Best Pet Fish For a Classroom Aquarium
On the positive side, they are one of the few species you can hand feed; they will often eat food from between your fingers. Oscars thrive when kept in pairs, or group of 5+, and should be housed together from a young age.
6. Mollies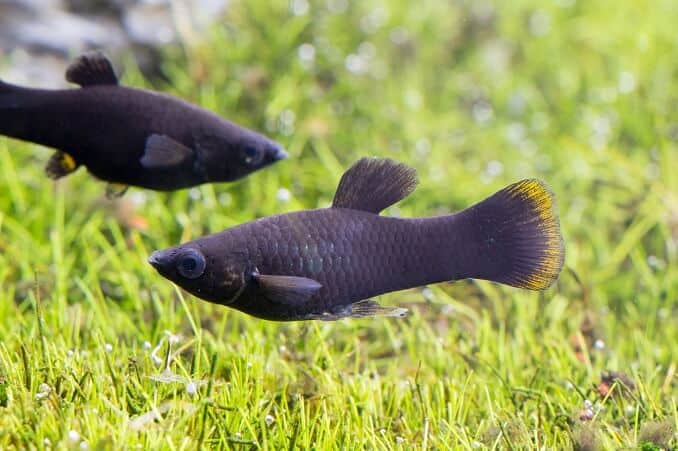 This small, peaceful species grow to around 3-4 inches, and adapt well to a variety of water conditions.
The ideal tank conditions are: a minimum tank size of 20 gallons, and warm water with a pH between 7.0-7.8.
Mollies are omnivorous, and will require a diet of both plant and animal food.
Interestingly, they are livebearers, meaning they give birth to their young live, rather than lay eggs. Mollies are very easy to care for, but they also breed very easily, so if you're a beginner you might want to keep just a single sex.
7. Zebra Danios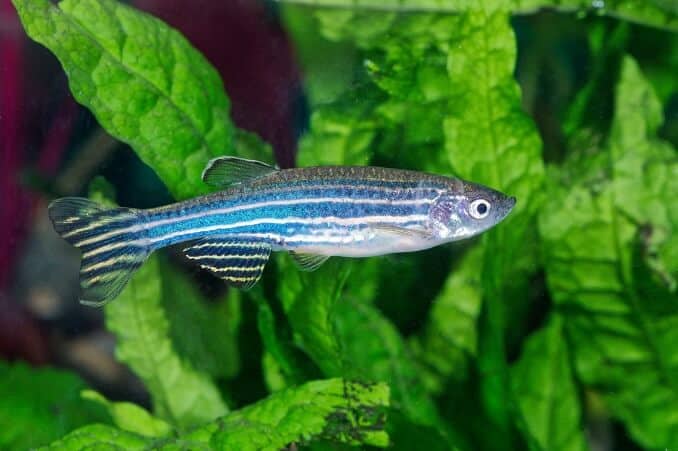 The Zebra Danios make the perfect beginner fish, they are very easy to care for and can grow up to 5-7cm.
They should be kept in at least a 10 gallon tank, in groups of at least 5. Danios are a schooling fish and will become stressed if their numbers are too lows. This is one of the Best Pet Fish For a Classroom Aquarium
They are not fussy eaters and will eat most foods; the healthiest option for them would be lots of worms, insets and crustaceans to mimic their natural diet, however a good quality flake will also work with a supplement of frozen or live food.
Danios are also known to jump so you may want to keep your tank covered!
8. Platies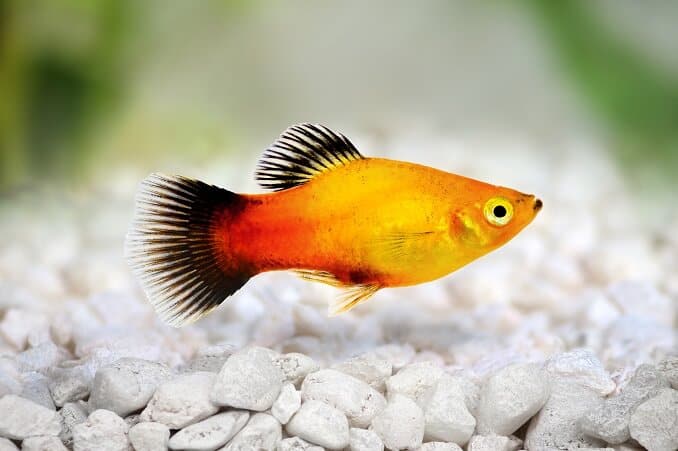 Platies come in almost every color imaginable and they are very easy to care for – just two of the reasons why they are so popular.
They are a great community fish, they're very peaceful and get along well with guppies and mollies.
Although small, platies are very active and love being in groups. A 10 gallon tank is large enough for 5 fish.
Whilst they are omnivorous, they do require much more herbivorous food, than meats. Ideally, they need a good mix of plant based food and proteins.
9. Cherry Barb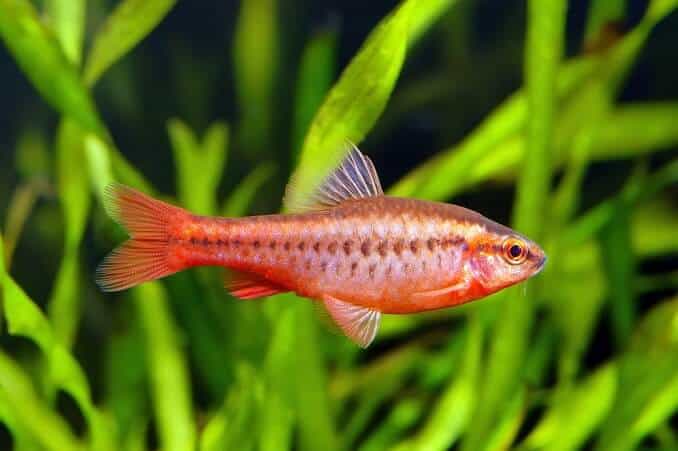 The Cherry Barb gets its name from the color the male turns when it is spawning. Usually, they are silver/black with a golden lateral line.
They are a peaceful fish which will grow to around 2 inches in length, and they require a minimum tank size of 25 gallons. Cherry Barbs are omnivorous and will eat most types of food including live, fresh, frozen and flake foods. This is one of the Best Pet Fish For a Classroom Aquarium
They are easy to care for and can be kept in community tanks with open space to swim, but also planted areas where they can hide.
10. Pearl Gourami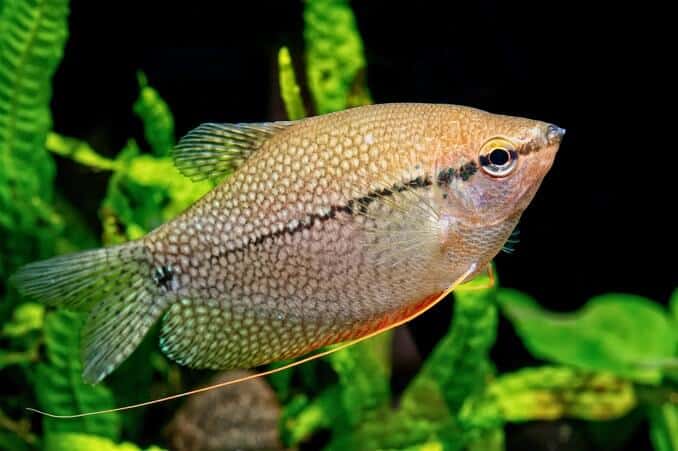 The Pearl Gourami is a relatively large, but peaceful fish and one of the most easy to keep Gouramis.
The minimum tank size for this species is a 30 gallon tank with plenty of hiding places, dark substrate and low lighting.
They can be housed with other fish of a similar size and temperament; however you should not house them with aggressive fish.
Pearl Gourami's are omnivorous and should be fed algae-based foods and meaty foods. This is one of the Best Pet Fish For a Classroom Aquarium
They are well known for eating Hydra, a tiny pest that has tentacles with venom, so make a great solution if you have a hydra problem.
11. Swordtails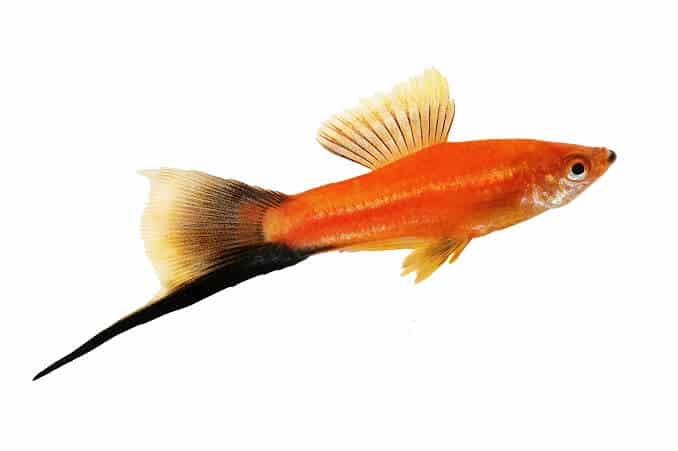 The swordtail is similar in shape to platy and guppy fish, with a slightly bulkier body, and a sword shaped extension of its fin.
There are many different color variations available and they are quite hardy which makes them a perfect species for the beginner aquarist.
Swordtails are usually peaceful, yet lively. They thrive in community tanks, and like to swim in loosely grouped schools. This is one of the Best Pet Fish For a Classroom Aquarium
They breed easily, and if you do decide to breed them, you should keep them away from their parents; Swordtail parents will often eat their fry.
12. Discus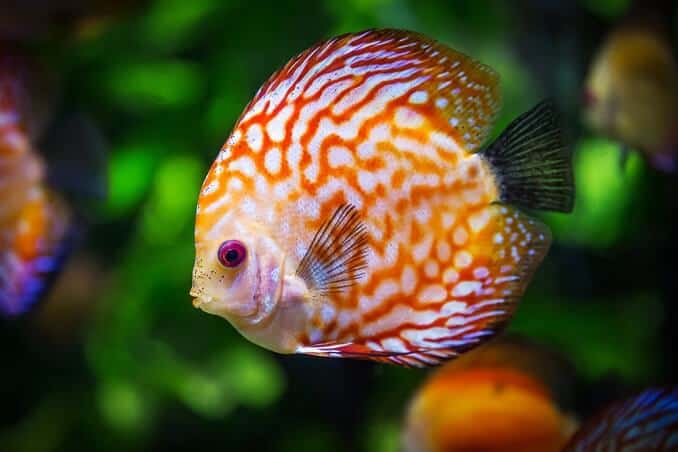 These beautiful and graceful fish can grow to be quite large, and therefore require a larger tank, a minimum size of 25 gallons.
Discus are not recommended for beginners, and instead should only be kept by experienced aquarists.
They can be housed with other fish that require the same water conditions, as long as they are not aggressive. This is one of the Best Pet Fish For a Classroom Aquarium
Discus will take a variety of foods but are carnivorous in nature. The best diet for them consists of beef heart and blood worms supplemented with flakes to provide vitamins and minerals.
13. Killifish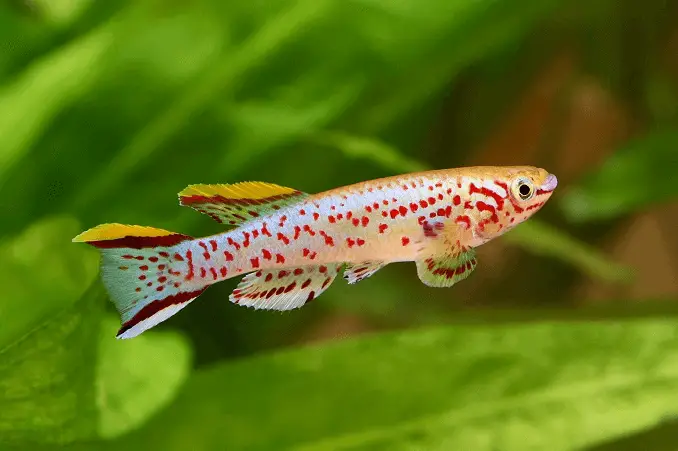 Killifish come in a wide variety of bright colors. They are extremely hardy fish, and there are over 700 species – a breed to suit almost every tank condition.
They are generally peaceful fish and do well in community tanks with other small, non-aggressive fish. It's best to keep just one male to each tank though, because they can be aggressive towards each other.
Killifish are very easy to breed, and are either annual or non-annual breeders. In the wild, annual killifish lay their eggs in temporary bodies of water which dry up for months at a time. When they refill, the fry hatch.
Most Killifish are carnivores and therefore enjoy a diet of insect larvae, worms and crustaceans.
14. Bettas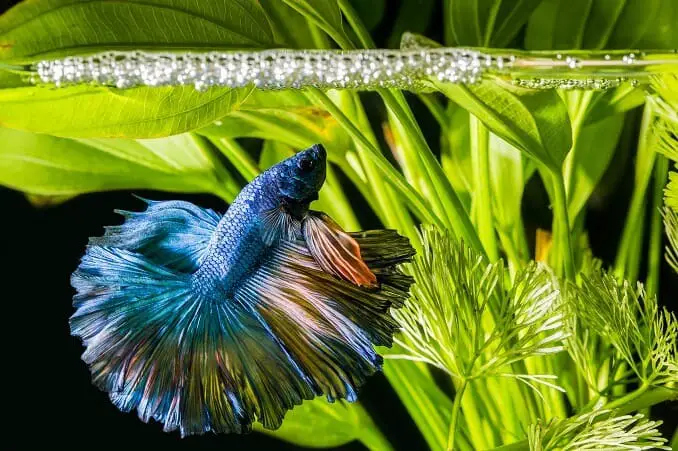 Another extremely popular freshwater fish is the Betta. It's not surprising why; Bettas are vibrantly colored, and easy to care for.
Male Bettas are notoriously aggressive towards other males. Therefore only one male Betta should be kept in each aquarium. They can be housed with other peaceful fish.
Bettas require an omnivorous diet, of both plant and animal foods. It is one of the Best Fish For Small Aquarium. This is one of the Best Pet Fish For a Classroom Aquarium
They grow to a maximum size of 3 inches. Although you often see Bettas in small ornamental tanks, they should be housed in larger tanks.
Did you know: Bettas are able to breathe air outside of the water due to their labyrinth.
15. Plecostomus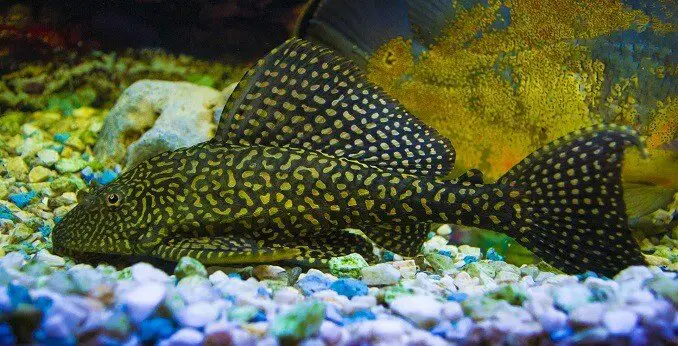 Plecs are a breed of catfish, they have heavy armored plates on their bodies, and sucker-shaped mouths to feed on the algae in your tank.
Whilst some species are happy eating algae, wafers and flakes, others will need meaty food such as frozen brine shrimp.
Breeding Plecs is extremely difficult and only a small number of aquarists have managed to breed them. This is one of the Best Pet Fish For a Classroom Aquarium
Plecos can live for 20 years, sometimes longer if cared for correctly. It's also worth knowing that they can jump too – so keep a lid on your tank.
They can be housed with many different species, but avoid keeping them with fat/flat bodied fish such as goldfish as they may suck on them.
Goldfish are the best for their dynamic behavior and intelligence. It is perfect to be in a classroom aquarium.
They come in many different varieties and colors. These fish are perfect for living in freshwater. It is the best starter fish for a beginner.
But they need a water change more than other fish. Whenever their tank gets dirty, change some quantity of that water daily. 
They have a very relaxed and soothing nature. They do not fight with their fellow fish at all and live like good companions.
They are friendly and loving. When you put your finger inside water, it comes closer to you and even comes in hands sometimes.
You can train them quickly for different techniques and tricks by using school training kits and other things like hoops, etc. 
It is the most common lovely fish, which is mon the science classrooms aquariums. Furthermore, it looks very charming and attract students.
They need quality food on their proper meal timings and regular slight water change. The water used in the aquarium should be free from harmful compounds to keep this fish healthy.
They are the most charming and active fish that are best to use in a classroom. Attractive colors and fast movements look excellent.
They all gather with enthusiasm when they see a strange thing or when they are excited about their food. 
They move so fast that it looks like some blazing colors flickering in the tank. The view is stunning. 
Their nature is a little bit aggressive, but they are not offensive to human beings. They can live with their species with great comfort. 
They are incompatible with some species of fish, so it is better to keep these fish with their fellows.
You should not keep a very congested spaced aquarium for these fish. A short space cause aggressiveness in them, but they can be kept in a standard-sized tank very quickly. 
If you have an oversized tank in a classroom or a bigger one, then absolutely there will be no problem.
The small Cichlids are fascinating and are accessible to and care. These pet fish are joyful and energetic.
I love to keep these fish in my home, and I wish I had them in my school aquarium when I was a kid.
They are an excellent source to make you happier. Take care of the water temperature as it needs a slightly warm water for habitat. 
These fish look more stunning and eye-catching because of their blazing colored tails. Male beta fish have big gorgeous tail and fins in different colors and types.
They all look great and fear for their tail a lot because it can get hurt by any sharp object, so that is why they are very possessive about it. 
They do not allow any other beta fish to come near them. They have an aggressive nature but behave in a friendly way when you love them.
They are cool to be in a classroom tank. Even if your tank has no decorations, still it will look beautiful because of this fish. 
They are brilliant, very different behaviors, and recognize his caretaker. Male Bettas protect their babies and need a private space to live. 
They do not allow other fish to interrupt or disturb their privacy. Most commonly, they have seen living alone will comfort. 
If you are already thinking about buying this fish for any schoolroom, then this is a great idea, go ahead.
They are best to create the bubble nest for their babies. They beautifully build these nests with their mouths.
These are predatory animals and eat food like shrimp, bloodworms, and other live food. You can also give the manufactured food to them. 
They also feed on the aquarium plants, but plant leaves are not enough for their proper nutrition, but they can eat it as a snack.
They need to stay more healthy to avoid any disease in there big tail and fins. You must keep their tank highly maintained.
Give this fish proper nutrients and take care of it. It will also show its love for you in different ways.
These are small fish that look lovely in their group. You can have five Barb fish in your classroom aquarium. 
They are lively and colorful fish that allures the heart of everyone. They can live in their group happily. 
They reach to the maximum size of 2.5 inches, but some members of their family are extensive. 
They are the best peaceful schooling fish. They can live for more than five years. There are so many varieties of this fish, and all of them are astonishing in their colors and uniqueness. 
Tiger barb fish are my favorite ones. Do not keep these fish with the long-finned fish to prevent any fight.
Students will love seeing this fish in their classroom. Their fast action also captivates the students more, and they also try to stay active. 
It has another name, which is Barbel fish. Do not keep this fish all alone but keep fellow fish.
Benefits of Aquarium Fish in the Classroom 
There are so many benefits of keeping a bank in the classroom.
Positive Attitude Towards Learning 
Students show a very positive attitude towards learning if they have live pets in front of them. They start focusing on the new pets they see and take an interest in their studies.
Observation told that cognitive development is much better in students who have a fish aquarium in their study room.
These kinds of things spark the imagination. Aquarium is also responsible for increasing the emotional and social skills of learners.
It can also help a student to create a lot of positive and beautiful memories when setting near the tank, watching colorful fish, and exploring the wonders.
Because in learning, students get involved in studies and explore knowledge on their own. Or at least learning something new and creative.
Students Take more Interest in Studies 
If a student is studying a fish and it is present in front of him live, then definitely he will understand the things more. 
You can point out the organs of fish to teach the kid. You can teach him about fish fins, tail, gills, mouth, and other body parts.
You can teach them the swimming behaviors of fish and nature. You can tell your student how to take care of his pet and how to grab the fish without hurting it. 
The beautiful colors of fish also pleases the eyes. 
Aquarium Fish Keep Student Active 
If you concentrate on something, you become active and energetic. The student does not sleep in the classroom if he sees the fish is moving in the entire tank fast. 
He focuses on the fish movement and eyeballs rotate; that is why a student does not feel sleepy in a classroom. 
Staying active in a lecture is very important to understand the things. If a student is sleepy all the time, then he will not learn like the one who is always active. 
Give a Relaxed Study Environment 
Children are always afraid of going to school because of the new environment. A school aquarium makes them feel comfortable and relaxed. 
It creates a kind of home surrounding, and kids learn without any fear. A comfortable environment make them explore the knowledge more. 
The learning and remembering process is also enhanced when you give a comfortable environment to your young generation.
Maintain the Decorum of the Class
Also, sophisticated decorum of the class is maintained if there are books and aquariums around.
It presents an amiable and decent look and creates a fantastic study surroundings. It is like an educational game to let the kid experience the wonders of the aquarium world. 
Why You Need To Set Up An Aquarium in a Classroom?
An aquarium looks very beautiful in a student's lecture room. Especially the science labs or other school rooms should have an aquarium so that students can learn from them.
Furthermore, they enhance the attention of all students towards study. A classroom looks very professional when it has a tank set up in it.
An attendant should always be there to care for the aquarium fish. Kids learn a lot from different behaviors of fish.
Aquarium enhances the study hall's charm and increases the peaceful environment. It also creates a positive attitude towards student's learning behaviors. 
Read the benefits of keeping a fish tank in a classroom, and you will learn why it is essential to keep an aquarium where someone is learning new things.
Which Kind of Fish Should Preferred for a School Aquarium?
You should choose the fast, swift, and active fish for your school classroom, lab, and even the home study room. 
Those fish that can swim fast make us more active than that of the one which is always lying in the corner of the tank.
An active and healthy fish is a must for a school tank. All of the fish that we discuss here are active and swift. 
Select from these and buy them now to make a more beautiful and creative study environment.
Tips for Keeping Fish in the Classroom 
Give all the proper care this fish as you give attention to your pet fish in the home. An attendant should always be there to care for the fish.
Aquarium water should be maintained, and its temperature should be reasonable according to the desired temperature of the fish living in it.
For feeding ease, you can set the automatic feeder there. You should not turn off the lights completely when the caretaker is about to leave the school and classrooms.
A small light should always be there to prevent any stress conditions in fish. There must be proper oxygenation in the classroom. You can keep the fan on so they can keep the flow of air in the tank or use the oxygen pumps. 
There must be some of the nutritious leaves floating in the aquarium so that fish can eat it whenever they are hungry. Otherwise, you should set the feeder for regular meal timings for 3 or 4 times a day.
You should care about the cleanliness and health of the fish. The room environment should be relaxing and free from suffocation.
So these are some of the fish care tips that you people must know. If you have any job related to school or college, then buy some fish now to keep in the schoolroom and also give this suggestion to other people.
Why is a fish a good classroom pet?
Pet fish is good for classrooms because they don't require a lot of work. That is not to say that pet fish are easy to take care of. But when they are compared to other pets, like dogs or cats, pet fish are easier to maintain. You just leave the fish in its tank and feed the fish. You don't have to give the fish a walk or clean up its mess. You do have to clean the tank but it doesn't take as much work as cleaning up a mess from a dog or cat.
Fish also don't take up a lot of space in the classroom. Even the biggest classrooms don't have the space needed for a dog or cat. A fish tank, on the other hand, requires little space and can be placed in the corner of the classroom. You don't have to worry about the fish moving from place to place because it stays in its tank.
Another reason why fish is a good classroom pet is that they are entertaining to look at. Fish come in all kinds of shapes and sizes making them appealing to kids. Kids also like how fish swim and can stare at their behavior all day long. The goldfish, for example, is a larger fish that swims around a lot. The betta fish is a little smaller. The clownfish has a unique swimming style. As you can see, each fish has unique characteristics from one another and when kept in a tank, they can be fun to watch.
Finally, pet fish are inexpensive. You do need to purchase a tank and accessories for the tank. But once you have everything set up, you just have to buy it food and change the water. The costs are much lower than costs for a dog or a cat that require some other expenses as well. Fish are cheap too. You can purchase fish for only a few dollars.
Reasons to not buy fish for classroom
We just listed out some reasons why you might want to consider a fish for the classroom. But there are also reasons why you might want to avoid a pet fish. We lay them out here.
Distraction – Yes, pet fish can be distracting. You want students to focus on class work but a fish could be distracting and give students a reason not to focus on class. For kids in the early grades, there could be more hands-on activities where the teacher isn't teaching something. Students may be eager to leave their seat and go look at the fish.
Smell – Fish tanks can smell, although the smell isn't that strong. Students who are sitting close to the fish tank might not enjoy the smell. It might even cause some students to argue about their seat placement. It might be distracting to teachers as well because they have to be in the classroom even after the students leave. There are things you can do to prevent a fish tank from the smell. (This article lays out the reasons why fish tank smells and how to fix it.)
How to get ready for classroom fish
There are a few things you should consider before you want to have an aquarium in the classroom. Here are 3 important things to consider.
1. Find a spot for the tank 
Even before you purchase a tank and fish, you need to find a spot in the classroom for the tank. It is easy to get excited about a pet fish and purchase everything. But if you don't have space for the tank and everything else that comes with it, you will run into some issues. The corners of the classroom are great places for a fish tank because they will be up against the wall and away from the students. You should avoid places with large amounts of sunlight because that can cause plants to grow faster.
2. Buying the parts 
There are a lot of parts that go into a fish tank: the heater, filter, decoration. You should buy these parts before setting up the fish tank because they are necessary for fish to live a healthy life. Take into consideration that this tank will be in the classroom and might not have space for larger accessories.
3. Inform students about the fish 
It is important that students are aware of the pet fish in your classroom. You should explain to your students about why you have the fish in the classroom as well as things that students should and shouldn't do with the fish. Students should not be allowed to touch the fish or the tank. They should be told to only observe the tank. If you feel comfortable, you can allow the students to even feed the fish. But make sure you set some guidelines first.
SEE RELATED ARTICLES:
Top 15 Best Freshwater Fish For Your Aquarium
Best Starter Fish Tank For Kids
Best Aquarium Fish For Beginners