Best Filter for 55 Gallon Fish Tank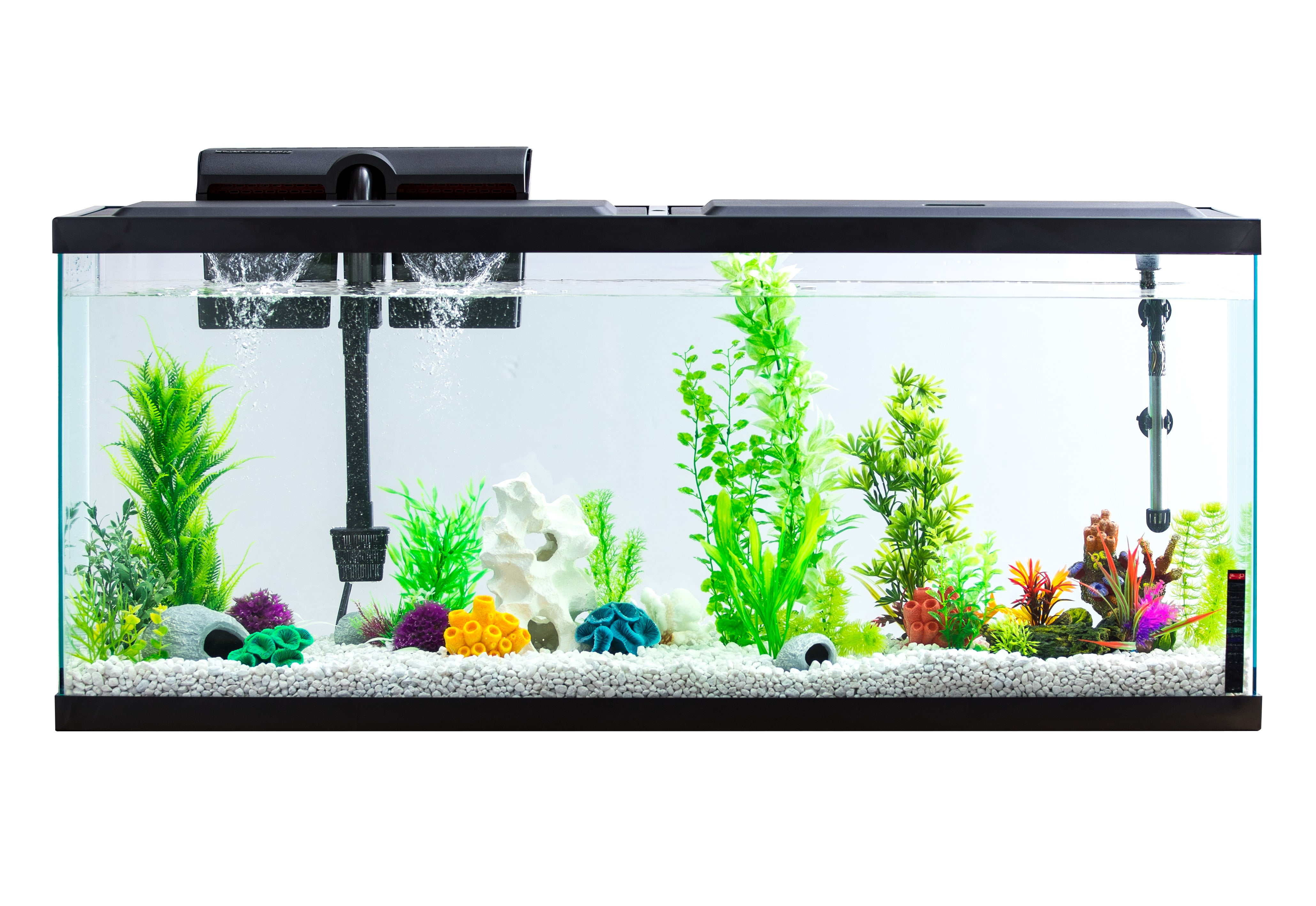 Finding the Best Filter for 55 Gallon Fish Tank  is essential if starting equipment required for large fish tank, and as large tanks go, everything grows in size, including the filtration system you would need to keep the water spotlessly clear.
If you're upgrading from a smaller tank and already have a small filter, you could get another similar one and run them simultaneously to process more water.
However, there are chances to break down, and it is excess work to clean and maintain two or more small filters periodically.
The ideal solution is to get a filter that's in the range of your tank or twice for excellent filtration. As a rule of thumb, when you have a full 55 gallon tank, the water should be cycled through the filter at least five times.
Therefore you need filters with an outflow rate of 275 gallons per hour (GPH) at the minimum. There are several designs with their pros and cons suitable for most aquariums.
   TOP 7 Best Filter for 55 Gallon Fish Tank 2020 (Reviews)
1. MarineLand Magnum Polishing Internal Canister Filter
MarineLand Magnum Polishing Internal Canister Filter is a compact, efficient, and durable filter that's perfect for 55 gallon aquarium. It features 3-stage filtration at the physical, biological, and chemical levels and comes with included carbon media in its dual media chamber.
If alternate media is to be used, the separator inside can be removed by popping off the lids on both the media containers and replace it with custom media for desired results. The filter design is stylish and blends perfectly with the aquascaping of any aquarium without standing out awkwardly.
With a flow rate of 290 GPH, the filter can easily handle tanks with a 55-gallon capacity and cycle water close to 6 times, so it stays perfectly clean for weeks. The carbon filter lasts for more than a month and needs to be replaced when saturated.
Pros: 
Easy to set up and use even by beginners with no experience using filters
Features dual chambers for customizable media
Comes with an included black diamond carbon media filter
No need for priming as it self-primes as soon as immersed in water
Cons: 
It can suck up sand or gravel and make a rattling sound
User Experience: 
This filter is perfect for water polishing and works without noise to keep my tank super-clear. It is especially useful when there are algal blooms in the tank and great at clearing up with bio media. I would suggest reading up on the microbiology of your aquarium to learn how to use it optimally with bio media. Although it works quietly well, if your clean up is overdue, the impeller accumulates grime on it and starts vibrating to give off a buzzing noise. It's an excellent filter for the price and durability.
2. Aqua Clear Filter 
This Aqua Clear Filter, which is designed for tanks between 60 to 110 gallons, is the perfect hang-on filter system for a large tank with plenty of fish and plants.
Being a hang-on back filter, it only features a non-intrusive inlet tube that's low profile and blends in with the aquarium. Since the whole filter sits on the back, it is barely visible and doesn't occupy space inside the tanks.
What is more refreshing is the cascading water outlet from the filter, which ensures good agitation of the surface for oxygen absorption. It features three levels of filter media, which can be customized according to your needs for the best performance. The flow rate can also be controlled with a simple valve to suit the tank from minimum to 500 GPH.
Pros:
Space-saving design that blends with the tank
Customizable according to the specific requirements with different media
Comes with a 3-stage filtration system
Adjustable flow rate
Affordable and energy-efficient
Cons:  
It gets a bit noisy when the flow is turned all the way up
User Experience:
This is the largest hang-on-back filter I could find on the market with a 500 GPH flow rate since I didn't want to go for under tank filters. It is relatively easy to set up and works well with the media that comes with it. I needed some more excellent polishing, so I replaced the sponge filter at the bottom with polyester fiberfill, and the results were quite astonishing. I've never seen such clear water in my tanks before!
3. Tetra Whisper EX Silent Multi-Stage Power Filter for Aquariums 
The Tetra Whisper EX Silent Multi-Stage Power Filter is a sophisticated and easy-to-use filter for 55 gallon fish tank that can be put to work straight out of the box without any setup. Designed to be used with tanks with capacities up to 70 gallons, this powerful filter pump has a flow rate of 340 GPH that cycles the water six times in an hour in a 55 gallon to scrub the water spotlessly clean.
The filter unit uses some innovative technology such as a filter cartridge carrier to keep the medium firmly in place and easily remove and the Timestrip technology, which tells you when the carbon filter needs to be replaced.
Its compact and stylish design adds a futuristic look to your tank, or it can also be placed to blend in with the setup.
Pros: 
Advanced filter that's easy to set up and use even by beginners.
Patented filter design technology, which also incorporates a Timestrip.
Quiet operation with good agitation of the water.
Cons: 
Improper mounting can lead to the unit vibrating with a loud rumbling noise
User Experience: 
I love the slick looks of this filter as it looks very cool on my 55-gallon fish tank. I got this after my previous filter broke as I needed something powerful but effortless to maintain. It works very well with my sponge media, along with the carbon that it comes with. It does create a bit of strong current at the top, which can be turbulent for delicate fish while feeding.
4. Aqueon Quiet Flow LED PRO Aquarium Power Filter 
The Aqueon Quiet Flow LED PRO Aquarium Power Filter ranks high on sophistication and user-friendliness sporting features such as an LED display and auto restart after a power interruption.
The model is perfect for any tank up to 75 gallons as it has a 400 GPH flow rate, which can cycle water multiple in an hour. In a 55 gallon tank, the filter can cycle the water seven times in an hour, which is an absolute must, especially when you have predatory fish in the tank creating a mess.
One highly useful feature, especially for those looking to maintain carefully controlled water in the tank, is the LED indicator, which flashes when it is time to change the cartridges. While it's a useful feature for meticulous aquarists, it is a highly helpful feature for beginners.
Pros: 
Highly user-friendly and especially easy for novice aquarists
Self-priming and works straight out of the box
LED indicator to indicate saturated media cartridges
Customizable media for experienced aquarists
Cons:
The impeller can sometimes be noisy
User Experience: 
This filter performs quite decently compared to many of the local ones I've purchased in pet stores. It works quite well to clear up my 50-gallon tank, but the output can seem a bit weak for the first-timer, however, the LED indicator and the raiser added to the lid on the new design is worth it.
5. Marineland Penguin Power Filter w/ Multi-Stage Filtration 
Coming from MarineLand, the manufacturer known for excellent aquarium products for over 40 years, this hang-on-back filter has performed consistently well in aquarium tanks around the world for decades. With a certified 350 GPH flow rate, it can easily filter a 55 gallon fish tank in no time.
The filter features physical, bio, and chemical filtration stages, and it is compatible with saltwater aquariums. Custom media can also be used by those who seek to optimize their performance to suit their tanks. For those who do not want the hassle of customizing things, a Rite-Size C cartridge can be bought for replacement periodically.
A unique feature of the filter is the BIO-Wheel patented biological filtration stage, which is quite efficient at removing toxins such as ammonia and nitrates from the water.
Pros: 
Easy to set up and use
The high flow rate of 350 GPH suitable for large tanks
Works with both fresh and saltwater
Cartridges can be replaced without powering it off
Cons: 
It works with a bit of noise from the impeller when water level low
User Experience: 
This one is a highly reliable model I've used for the last two years, and it works well with a reasonable flow rate. It isn't exactly on the quiet side but gives off a slight hum, which I got rid of by stuffing the primary strainer with some Filter Floss I got from my local pet store. It appears the high flow rate is the cause for the sound, but it's not much of a concern. The rest of the filter is highly reliable, and the cartridges last for weeks.
6. Hydor Professional External Canister Filter 
When precise control of water quality is needed in a 55 gallon aquarium, it is a good idea to go to an external canister filter such as this one. The Hydor Professional External Canister Filter is the complete package and features all you need to set up your own top-notch customized filtration system.
Ideal for expert aquarists and some experienced beginners, the unit comes with some assembly required for setting up such as connecting the hoses to the inlet and outlet and finding the best location to place the nozzle or the spray bar in the tank.
The unit can work with media of all three stages of filtration, such as physical, chemical, and bio media, which can be changed according to the user's need.
Pros: 
Professional set up for serious aquarists
Easy to prime
Telescopic intake tubes to allow more flow
Works quietly even with large tanks
Cons: 
Leaks can develop at the connection points over time
User Experience: 
Once I upgraded to my 70-gallon tank from a 40-gallon aquarium I had for three years, I also decided to do away with the hang-on-back filters I had with the smaller one. The reason being it took up some space in the back, and I needed the new aquarium to fit perfectly into the cabinet. The Hydor Professional was surprisingly easy to put together, and it works quietly. I have all three filtration stages on it, so the water is crystal clear.
7. Eheim Pro 4 600 Filter 
Upgraded from the EHEIM Pro 3 series, the Eheim Pro 4 600 Filter is a high capacity professional aquarium filter that is perfect for use with 55 gallon aquarium tank. The unit comes with everything, including the filter pads, media, and all the installation needed to set it up and running.
The model also features slick new form and external paint that gives a futuristic look in the cabinet while offering quiet operation throughout. It is ideal for serious aquarists wanting to maintain perfect control over the water quality or even experienced beginners who wish to invest in a filter that would work for more than a decade, giving consistent water quality with customized filter media.
Pros: 
Square canister offers higher filter volume and stability
Adjustable flow rate as suitable to the application
Low energy consumption and efficient pumping
Integrated self-priming tool
Xtender control function to counteract blockage in filter media and extend filter life
Top pre filler gives extra filtration by trapping more substantial particles to make cleaning easy
Cons: 
The hose is a bit on the short side, and extra length need to be purchased for a tank placed higher
CONCLUSION
As always, the filter maintains the classic Eheim quality in the engineering of the product and the durability of its components. I have this on my 55-gallon tank, and there are plenty of aquatic plants with the fish in it.
For the first-timers, it might seem counter-intuitive as to why the design has the water flow top-down through a pre filter before it goes to the coarse filter and comes back up again.
The prefilter is where most of the problematic debris accumulates, and it can be cleaned easily without having to take the whole thing apart!
SEE RELATED ARTICLES:
Best Filter for 55 Gallon Fish Tank
Best Filter for 75 gallon tank